Style is the biggest game-changer when it comes to watches for women. It's not just telling the time but giving a statement. Watches are more than just accessories; they are displays of uniqueness and self-assurance. Some watches are made to captivate your senses and up your style game.
This blog will go through five such watches for women who put style above everything else because of this. This list will cater to all. It is regardless of whether you're a trendsetter, a fashion fanatic, or just someone who enjoys the finer things in life. These are our best picks for watches for women.
The Ultimate Style Statement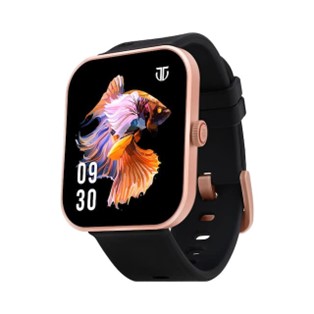 This watch is ideal for you if you want something that seamlessly mixes style and innovative technology. This watch's 1.78″ AMOLED Display and svelte appearance make it a real head-turner. You can stay connected while on the go and maintain an active lifestyle with the help of advanced BT Calling and more than one hundred sports modes.
The rectangular case design emanates modernism, and the rose gold dial adds a touch of beauty. It is more than simply a fashion accessory. This is because of its water resistance and outstanding 5-day battery life. It brings a statement of fashion along with utility.
Fusion of Elegance and Functionality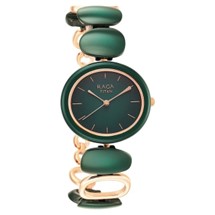 This ceramic piece is a true masterpiece for people who value the ideal balance of elegance and practicality. Its eye-catching green dial and metal band combine to synthesise hues and materials. The circular case form and sapphire crystal glass add a touch of refinement.
When wearing the Titan Raga Ceramics, you will innately show grace and style wherever you go. It goes with you on your daily activities and has an analogue movement that is water resistant. The push-button clasp offers a snug fit while subtly enhancing the luxurious appeal.
The Perfect Blend of Style and Technology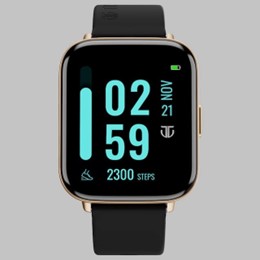 Smart 2 is the product of when fashion and technology come together. It is stylish because of its classy black strap and AMOLED display. The square case design communicates confidence, while the touch screen feature adds a touch of utility.
This is one of those watches for women that is as smart as it is elegant. It is because it has features like SpO2 monitoring and a bright display. For women who value both style and utility, the Titan Smart 2 is the ideal companion. It is available in many colours.
Workwear for the Sophisticated Woman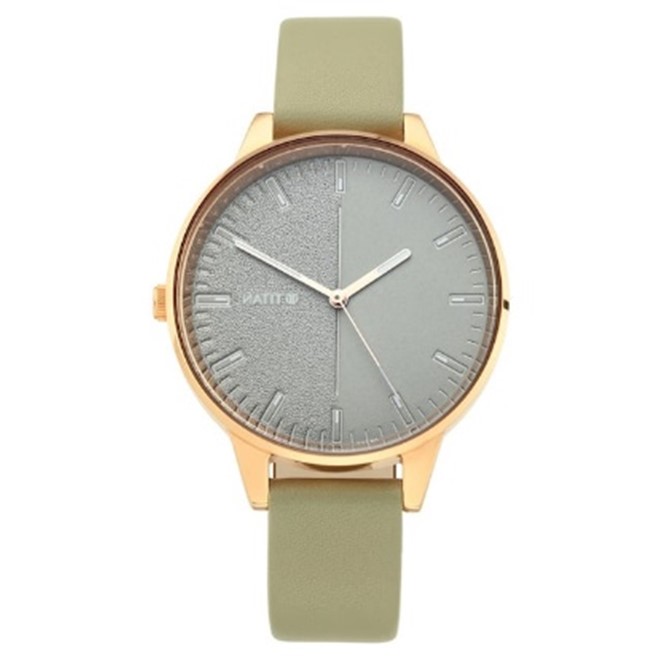 The workwear is a must-have piece of jewellery for the affluent woman who values subtle elegance. The strap's light olive green leather colour and silver grey dial complement each other, and the rose-gold case provides a subtle contrast.
This watch's quartz movement and circular case form combine class and professionalism. It comes in many options, and more importantly, it is one of the watches for women that reflect your style. This watch is for those who want to make a demure yet alluring statement.
Love All: The Timeless Classic for Every Occasion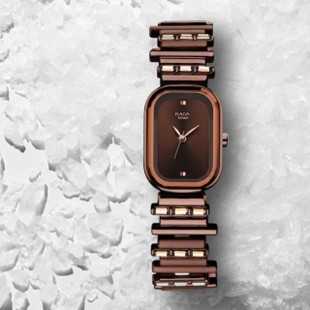 Are you looking for watches for women that symbolise classic beauty? Love All is the perfect collection for that. This watch has a warm, adaptable vibe thanks to its brown face and matching brass band. Mineral glass guarantees durability, and the oval case form gives an original touch.
It is one of those watches for women that is ideal for any occasion, from informal gatherings to formal ones. You can take every moment in style with the 3-piece sliding clasp's snug and comfortable fit.
Conclusion
One thing that becomes obvious is that these watches for women can elevate your style above all else. These timepieces are more than just accessories; they manifest individual style and confidence. All these watches for women have a distinct character. The workwear watch is a companion for affluent women who enjoy subtle elegance. Whereas 'Love All' collection captures the essence of timeless beauty for every occasion.
Titan can help you elevate your fashion game and embrace the confidence of wearing a timepiece that truly represents who you are. These watches for women inspire and empower. They are crafted with meticulous diligence. So, if you're ready to make a style statement that reflects your individuality, it's time to explore the world of Titan watches for women. Discover the perfect watches for women that resonates with your personality with Titan. Let it be a testament to your unique sense of style.
Image Source: Shutterstock