Red Dots! So you didn't know that they call it bindi "exotic"! If you are truly here, to know the reason why a bindi is being worn, then a simple answer to it, is the Indian culture. Today the millennials are seeing it as a fashion more than a culture. And today for various kinds of fashionable attires, this bindi suits well in the forehead of a girl. But Indian brides have a very significant approach towards the red dots or bindis. You can see the Indian brides wear bindis in the forehead, placing it in the middle of the eyebrows. As per the Indian tradition, culture, and heritage, wearing a bindi after marriage confers respect to her husband, and towards the marriage that she belongs to.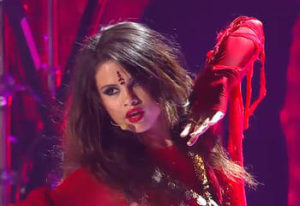 Just before few days, during a weekend, the very famous American singer Selena Gomez was spotted wearing a huge bindi, during her performance at the MTV Movie Awards. As because it was Selena Gomez, it created a different vibe in the social media. It also represented the Indian culture, but it was more visible as a fashion element to look beautiful.
A bindi in the Indian bride's forehead, with a red saree, makes her look beautiful and resembles an ideal bride. The Indians also concerns it as an object of recognization. Those elements like sindoor, red dots/bindi, are only worn when a lady is married. Hence people surrounding her can easily understand, that she is married.
These red dots have growing prominence in the culture and make Indian girls uniquely representable. Their feeling of looking pretty, and groomed as a bride, makes them more confident and appealing.
The insight, that previously it was mandatory for the Indian brides to wear a bindi, can sound odd to you. But today as new adaptations are happening in cultures, the art of wearing a red dot, has also become a matter of choice.