Sending someone off is a bittersweet moment. While you're sad to see them go, it's also usually because of a great new opportunity. These opportunities might be once in a lifetime, or they might be part of a routine experience, such as a military deployment. Either way, having a great farewell party is an important part of sending someone off. Here are some of the best ideas for a memorable farewell party!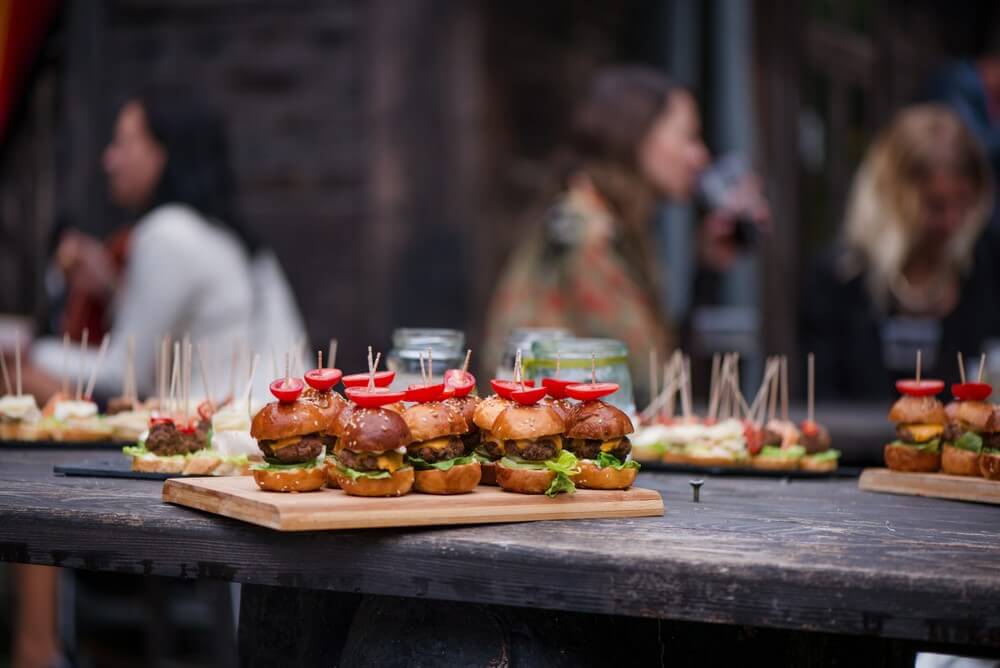 Source: LaineN/Shutterstock.com
1. Have a photo booth. Pictures really can say a thousand words, and what better way for everyone at the farewell party to have a chance to take lots of pictures? A photo booth is a great idea for a farewell party that makes the event memorable. Whether you set up a cell phone tripod or you hire a professional photo booth company, your guests will have a blast. Plus, you can send everyone digital copies and print out a few of the best shots for your guest of honor and send them on with framed photos from their night. Custom picture frames are perfect farewell gifts because they allow you to keep track of beautiful memories for years to come.
2. Have a delicious spread of food. One of the main things people will remember from your party is what the food tasted like. Bad food equals bad memories, and that's not something you want your farewell guest of honor to have when they leave! Every time they think back, the other fun parts of the event will be tainted if you don't have the right food at your event.
Make sure you have food for various diets and make accommodations for allergies. Not only will your guests thank you, but everyone will have lots of great memories whenever they think of your event. Depending on your date and time of your event, you can offer different types of food. Afternoon farewell parties are great for hors d'oeuvres or a light lunch. Morning parties typically will have breakfast foods. Evening parties either have dinner or hors d'oeuvres, depending on the time.
If you've got a lot of people attending, then you might not need to order heavier items. Smaller guest lists allow for you to expand on your options that guests can enjoy. Regardless, serve food that tastes good, and everyone will think back on your event fondly.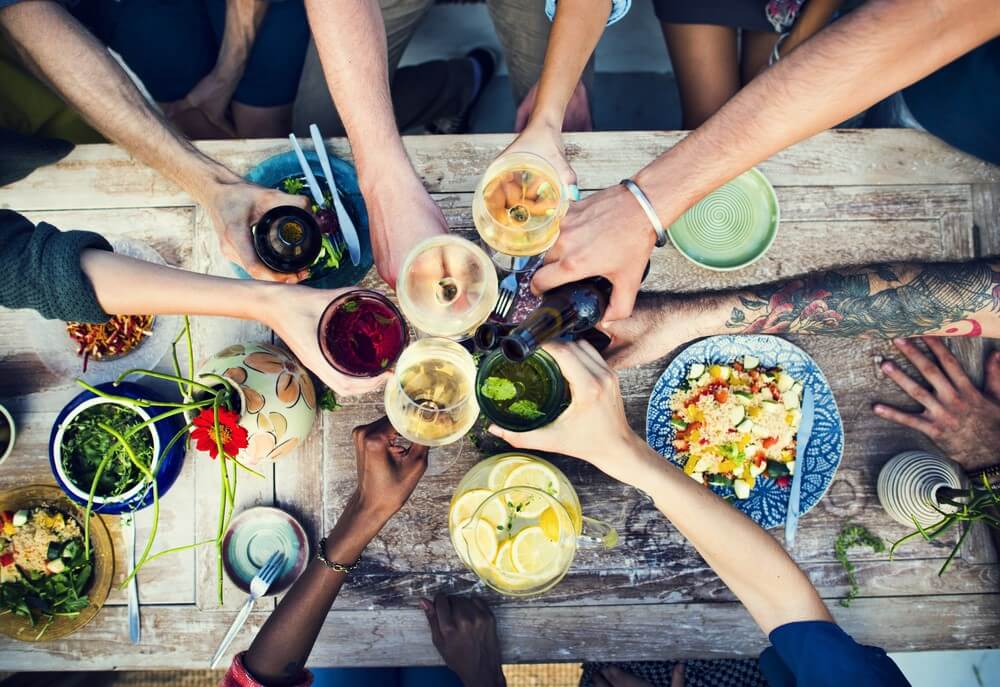 Source: Pawpixel.com/Shutterstock.com
3. Hang a large banner. Nothing says "We'll miss you!" like a large banner hung up outside your home or in the party space. Banners are just one way you can spruce up your home decor for a farewell party! You can hang streamers, string lights or even some wall signs as a way to really make the place look great for a farewell party.
Adding unique personalized home decor as decorations for the party is just one way you can make things memorable for all your guests. A large banner is also a great idea if you're hosting the party but none of the attendees have been to your home before. Seeing the large banner outside your house basically functions as a large welcome sign that all your guests will see to help them find your place.
This is especially great if you live in an apartment, townhouse or another home that either is part of a multi-unit building or looks similar to the other homes on your street. Guests will be very thankful that you went the extra mile to ensure that they went to the right place.
4. Have a paint and sip night. Sipping some tasty beverages while painting a beautiful landscape sounds like a lot of fun, right? These days, you can have paint and sip night from anywhere, even your own backyard! This makes it a great idea for a farewell party. Everyone will have something to take with them at the end of the night, and you all can spend the evening enjoying each other's company while learning from a professional that will guide you through the canvas.
Some canvases even come with pre-marked stencils! This makes it easy for everyone to enjoy the evening because they don't need to stress about where to place the paint — perfect for those paint and sip nights where you don't want to have an instructor around! This might be best for your farewell party if you know that everyone really enjoys spending time together and chatting.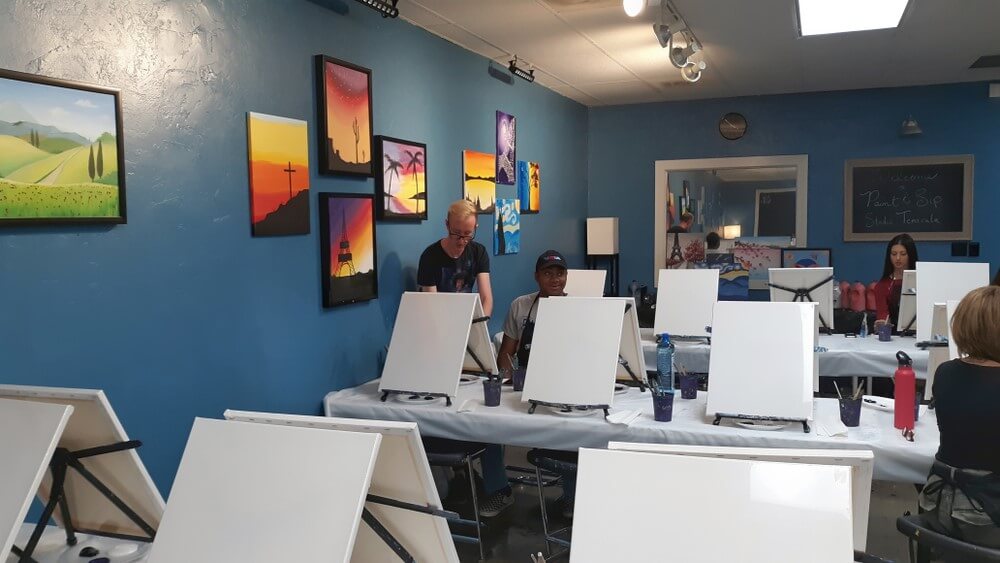 Source: truannak12/Shutterstock.com
5. Give them a nameplate. Are you hosting a farewell party for your coworker? Workplace farewells are common when an employee retires. Some will even host for when someone transfers departments or offices, or even if they decide to leave and go somewhere else. While not every workplace celebrates farewells and has a party, others do. And, if you've been tasked with planning the workplace farewell party, a nameplate is a great gift idea!
Go the extra mile and get a glass one engraved with their name as a sweet keepsake gift they can take with them when they leave. They can use it at their new desk or place it on one of their bookshelves at home to look at and remember their time at your workplace. For employees who dedicated their career to a workplace, a nameplate is a great gift to give them at their farewell party.
6. Have a dessert bar. Rather than getting a cake or cupcakes, why not opt for a dessert bar instead? These desserts are usually a vast assortment of pastries your guests can try. From cheesecakes to cannolis, a dessert bar is often many guests' dream, so you know it'll definitely be a hit! Dessert bars are great if you have guests with food allergies or dietary restrictions too. Since the desserts are typically individually packed, that usually means they're available to avoid common allergens. Dessert bars also look great in pictures! They're easy to set up too — all you'll need to do is arrange the platters or tiers for guests to enjoy.