Natural calamities, poor family relationships, poverty, and discrimination are some of the known causes of anxiety, stress, and depression. People deal with such disturbing situations in different ways. However, meditation is the best way to deal with tension and worries.
Meditation involves techniques that can reduce stress and increase calmness. In other words, meditation is any activity intended to boost a state of awareness and concentration. It's one of the best ways to develop self-consciousness, reduce negative emotions, and increase creativity.
There are several essential tools for meditation. One of these is a meditation pillow. 
This article walks you through all you might want to know about a meditation pillow. You'll learn what it is, its benefits, and factors to consider when finding one. Read on to get enlightened.
What Is A Meditation Pillow?
Also known as zafu, meditation pillows are special cushions designed to provide optimal support when meditating. The basic function of a meditation pillow is to elevate the hip and support the spine. Thus, it helps improve your posture, allowing you to concentrate for a long period. For more information about meditation pillows, you can watch this video:
Why Should Use A Pillow When Meditating?
For proper and prolonged meditation, you need to put your body in a good posture. Sitting in the wrong posture can exert pressure on your body, leading to joint and muscle pains. Avoid this by using a pillow when meditating.
Some of the benefits of a meditation pillow include:
Improves Comfort
Comfort is essential to any meditation activity. It involves a state of being in physical ease or feeling relaxed. Improved comfort enables you to concentrate on your thoughts when meditating.
Increasing your comfort when meditating isn't easy, especially when you decide to sit on a hard floor or surface. It can cause pain in your body, thus distracting you from meditating. If you decide to practice meditation while sitting on an empty floor, you might not get better results. Boost your comfort by utilizing a meditation pillow.
As noted earlier, the primary aim of using a meditation pillow is to help raise your hip. This helps reduce the pressure that could've been exerted on your joints. A meditation pillow eliminates any possibility of developing body pains, thus, boosting your comfort. Always carry with you a pillow to increase your comfort when meditating.
Improves Posture
Sitting in the wrong posture is one of the great barriers to effective meditation. It causes slumping, a situation where you feel tired and unable to do anything. Also, when you slump, you might develop shoulder and neck pains.
Some of the major causes of slumping include sitting too low and having an inadequate tilt in your seat when meditating. Avoid this hassle by utilizing a meditation pillow.
A meditation pillow enables you to sit upright, thus, boosting your posture. This occurs by allowing you to create an upright posture that helps minimize pressure on your spine and hips to help prevent pain on joints and other body parts.
Promotes Stability
Stability forms an integral part of meditation. When you're not stable, you might face a lot of discomfort. This causes you to lose your focus or concentration. For better results, always find ways to boost your stability when meditating. You can achieve this by utilizing a meditation pillow.
Because a meditation pillow raises your hip, this helps boost your body's stability, allowing you to remain focused.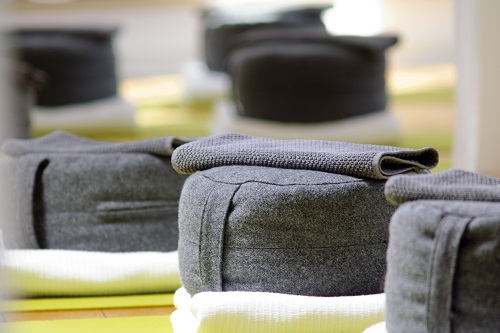 Increases Body And Mind Connection
Meditation is all about boosting your self-consciousness. This involves the ability to understand and connect your body with your mind.
Sometimes, connecting your body and mind isn't a walk in the park, especially when meditating on a bare surface. Such surface can cause more pain to your body, causing you to lose your focus. But, this shouldn't be the case. Avoid it by utilizing a meditation pillow.
A meditation pillow helps align your posture. Besides, it enables your shoulders to stay relaxed, especially when you pose with your legs crossed together. This enables you to promote the connection between your body and mind.
Helps Prevent Pain
Meditating in the wrong posture can cause a lot of pain in your body. Some of the areas in which you're likely to develop pains include the joints and the back. Luckily, a meditation pillow can help prevent these types of pains.
A meditation pillow ensures you're stable, thus, spreading weight evenly on your lower body. This helps eliminate the chances of straining your back and joints.
Improves Endurance
Are you looking to meditate in the foreseeable future? If yes, you must find ways to boost your endurance.
One of the main reasons most people quit meditation is that their bodies can't endure for too long. In other words, their bodies aren't strong enough to withstand vigorous activities. If you fall under this category, consider boosting your endurance by utilizing a pillow when meditating.
A pillow allows you to engage most of your body muscles when meditating. These include the beck, legs, arms, and hips muscles. Involving a majority of your body parts when meditation enables you to develop a flexible body, thus, promoting your endurance. It enables you to boost strength in your muscles as well.
Helps Regulate Body Temperatures
High temperature levels are one of the major distractions to meditation. They can cause discomfort, thus, impacting your concentration. Besides, high temperatures can have serious effects on your body, including dehydration, numbness, nausea, and heatstroke. That's why you should take a pillow as your best friend when meditating.
Most meditation pillows are breathable. This implies that they can allow air to transmit through them. They can, therefore, draw heat away from your body. This helps regulate your body temperatures, allowing you to feel more comfortable when meditating.
Due to their breathability or ability to regulate body temperatures, meditation pillows are also used for sleeping. You may go find a multipurpose pillow for both your meditation and sleep needs.
What To Consider When Finding A Meditation Pillow?
As you've seen above, there are several benefits to utilizing a pillow when meditating. However, you must ensure you're selecting the best meditation pillow for better results.
The major factors to consider when purchasing your meditation pillow include:
Height is one of the major factors to consider when choosing a meditation pillow. Meditation pillows are made of various heights to accommodate specific needs. Choose a height that bests suit your body, and make sure that it elevates your hip to the right position to help improve comfort and stability.
Sometimes, selecting a meditation pillow can be a daunting task, especially if you're a beginner. You can overcome this by buying your meditation pillow from a seller who can allow you to test it before paying for it. This ensures you're not picking the wrong meditation pillow in terms of height. Otherwise, you might opt for an adjustable meditation pillow, which can accommodate anyone's height.
In most cases, meditation involves going to a far distance from your home or a location where noises are minimized. This can be in the middle of a forest, top of a mountain, or any other convenient place. In such a case, select a portable meditation pillow.
Buying a portable pillow ensures you're not carrying heavy luggage when going to meditate. It's one of the best ways to ensure you don't feel tired while meditating, helping you boost your mind and allowing you to concentrate all the better.
If possible, choose a portable meditation pillow with handles for easy carrying.
There are different kinds of meditation pillows in the market. Although most of them can provide similar level of comfort, their prices might differ. If you aim to save a few coins, analyze the prices of various available pillows from different shops, and select the one that offers the best value for your hard-earned money.
You shouldn't compromise quality for a low-quality meditation pillow. Regardless of the price, be sure to find a meditation pillow that can serve you besr.
Meditation should be a continuous process. To get the best results, you ought to practice it daily. That said, before paying for your preferred meditation pillow, be sure that it can serve you for the longest time possible. In other words, your meditation pillow should be durable.
One of the major benefits of selecting a durable meditation pillow is that you get to save on costs. Selecting a pillow that isn't durable can tear and wear quickly. This forces you to buy another one sooner, thus, consuming much of your money in the long run. To ensure you're not shopping for another meditation pillow anytime soon, find a durable material.
Buying meditation pillows can be an overwhelming task, especially when shopping from online stores. You can end up receiving the wrong meditation pillow in terms of height, weight, and other pertinent aspects. In other instances, you might receive a worn out or torn meditation pillow from the supplier. You might want to exchange it for another one in such a case. That's why you need to consider a seller who can provide a warranty.
A warranty is a written agreement by the seller, promising to replace your meditation pillow if it fails to serve your desired purpose. It ensures you're not spending any other coin to buy another meditation pillow. Your seller can exchange your current meditation pillow with another for free. However, you must adhere to the terms and conditions of the warranty.
Most meditation pillows specify their warranty conditions. Failure to comply with the stipulated conditions can render your claim null and void.
Inhaling dust can damage your respiratory system. These small particles can build up in your lungs. When this happens, it causes you to have difficulties when breathing. This destructs you from meditating effectively.
If you're not careful, your meditation pillow can collect a lot of dust. Although, sometimes, it can be difficult to prevent your meditation pillow from collecting dust completely, you can keep it in good condition by cleaning it.
Besides, some harmful insects, like bed bugs and lice, can find a hiding shelter in your unclean meditation pillow. These parasites depend on human and other animals' blood for survival. Although bed bugs and lice aren't known to cause diseases, their bites can be really itchy. This can be an annoyance, especially when they distract you from meditating.
One of the best ways to remove dust and parasites from your meditation pillow is by cleaning it. For that reason, you might want to select a washable meditation pillow.
You can clean your meditation pillow using a washing machine. However, if you don't have one in your home, you can select a hand-washable meditation pillow.
You can meet several meditation pillow sellers out there. However, not all of them are reputable. Some aren't genuine, and can end up stealing your money or providing substandard services.
Strive to purchase your meditation pillow from a reputable seller. However, understanding the reputation of meditation pillow sellers isn't easy, although you can simplify the process by reading online reviews.
Online reviews are other customers' opinions they leave after buying their meditation pillows from the seller in question. These can be positive or negative feedback.
Positive reviews can indicate that the meditation pillow seller in question is reputable. You can consider buying your meditation pillow from such a seller. Negative online opinions can indicate that the seller in question doesn't provide quality meditation pillows and services. You should avoid buying your meditation pillow from such a seller.
Takeaway
Meditation is the way to go if you want to deal with a stressful situation. It helps increase tolerance, thus, boosting your creativity. This enables you to focus and find solutions to your current situations.
One of the best ways to boost your comfort when meditating is to use a pillow. As you've seen above, there are several reasons why you should utilize a meditation pillow. However, you should choose the right meditation pillow for your needs to ensure the best results.