Lemonade is a refreshing drink made out of lemon and sugar (optional). The unmatched taste of lemonade makes it one of the top favorite drinks worldwide. Many times, you crave a refreshing lemonade but you don't have the access to the ingredients around you. Packaged lemonades are a great substitute for home-made lemonades and taste even better. Here, we bring you the top 10 brands that offer amazing lemonades in the United States:
1. Simply Lemonade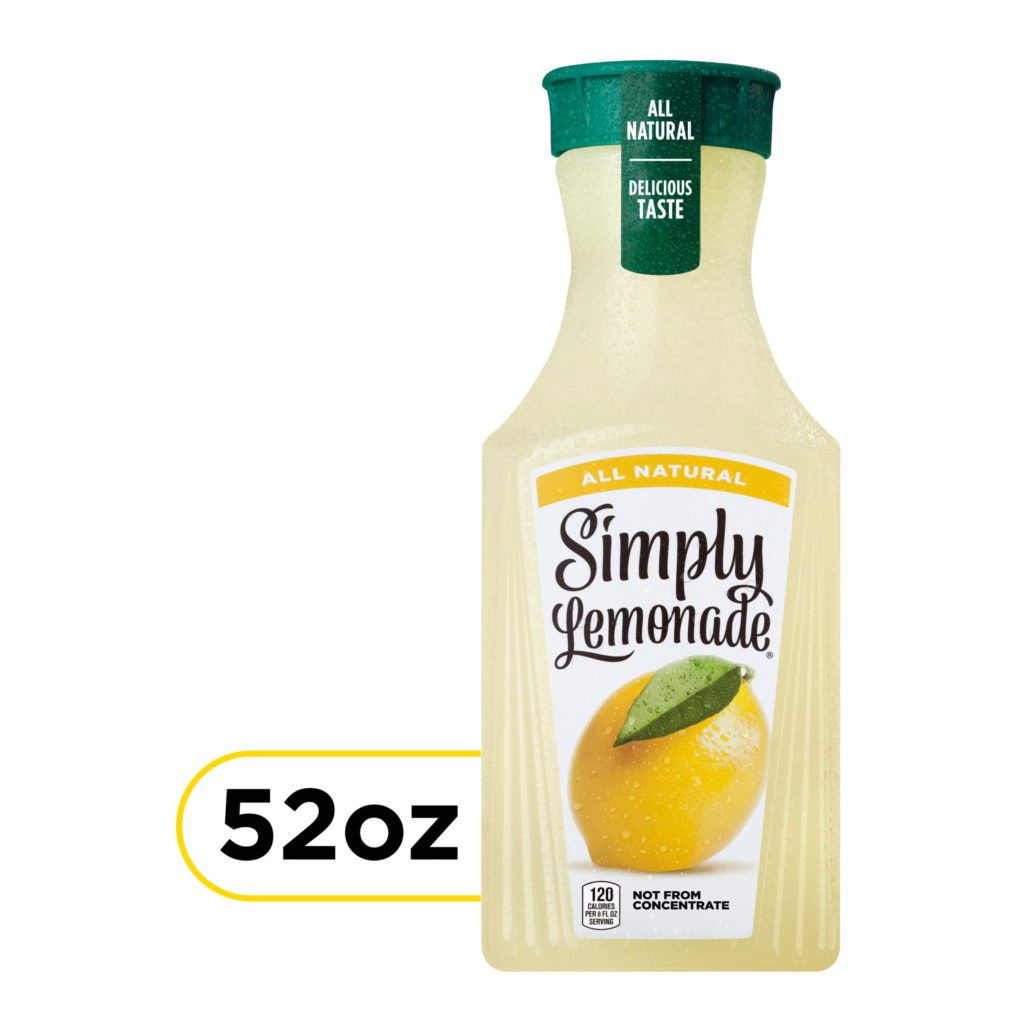 Providing fruity drinks made in the most hygienic environment is the business of Simply Beverages. Fruit juices, smoothies and drinks including lemonades are the selling items of the brand. The brand assures that the fruits and other ingredients that are used in the manufacturing of drinks are handpicked and are of the greatest quality. Simply Lemonade consists of Real Lemon Juice as well as other natural ingredients. The making process doesn't involve any kind of artificial flavors because the brand believes in providing purely natural drink. Try the amazing Simply Lemonade from your nearest store or simply order it to your home.
2. Marketside Lemonade
This brand is a smart pick when it comes to packaged lemonade drinks. Marketside Lemonade contains 15% of juice and is made of natural lemon flavor. The ingredients used in the manufacturing are of top quality and naturally procured. The only ingredients that are used in it are Filtered Water, Lemon and Orange Pulp, Sugar and Natural flavor. Marketside also offers flavored lemonades including Strawberry and Mango. It is ideal to consume chilled or mixed with ice. One can also make other drinks like cocktails using the Marketside Lemonade. A 44 fl Oz bottle is priced at only $1.72.
3. Country Time Lemonade
Country Time Lemonade is a premix in powder form that can be mixed with water and can provide an ultimate taste. You can carry the Country Time Lemonade easily in a hassle-free manner and prepare a drink that is refreshing in every sip. It contains natural sugar and no amount of artificial flavor or sweetener. It comes with a lip that is used for measuring the amount of lemonade. You can simply add the Country Time Lemonade Mix with iced water in a sipper and shake it well to get the ultimate taste.
4. Minute Maid Lemonade
Minute Maid is one of the oldest brands that provide tasteful and refreshing beverages. The company has over 75 years of experience in preparing such amazing drinks. Minute Maid Lemonade is made up of zero sugar and contains negligible calories. This brand's drinks have proved to be better than the other mainstream juices that contain artificial sugar and flavor. Minute Maid focuses on making their drinks healthier and more delicious. This Lemonade is also a great source of Vitamin C as it is made from real lemon juice. Try the tasty Minute Maid Lemonade from the store near you.
5. Great Value
Great Value Lemonade is a great pick if you're looking for something old-styled as well as refreshing. The classic taste of the drink offers a refreshing taste and richness of lemon. Real cane sugar is used in the manufacturing process of Great Value Lemonade. It comes with a measuring scoop that makes the preparation simple. A single pack of the Great Value Lemonade can make 26 quarts of lemonade. Simply stir the mix with the iced water and enjoy the blissful taste of the lemonade. Carrying this lemonade effortlessly is its USP.
6. True Lemon
The company True Lemon created a pre-mixed lemonade composed of real lemon juice and other natural ingredients. The lemonade mix contains Non-GMO ingredients as well as other healthy derivatives. True Lemon Lemonade is free from caffeine, gluten and sodium. The sweetener used in the manufacturing is high-quality stevia which provides 10 calories per sachet. True Lemon is a great pick to hydrate yourself as well as enjoy the refreshing taste. Another interesting fact about True Lemon lemonade is that it doesn't contain any artificial color but has turmeric in it.
7. Crystal Light
Crystal Light Lemonade is a great substitute for juice or soda as it contains zero sugar and less than 5 grams of calories in each serving. The refreshing taste of Crystal Light Lemonade makes it one of the top-selling lemonades in the USA. Its taste is very subtle, i.e., neither too sweet nor too sour. The price of 80 Oz pack costs you only $2.58. This sugar-free drink is ideal to make your summer soothing because one can consume it without keeping the count of calories. Also, Crystal Light Lemonade comes under the category of SNAP and EBT-eligible food items. So, try it out from the store near you.
8. Kool-Aid Lemonade
The delicious Kool-Aid Lemonade is ideal to beat the summer heat because it can be prepared very easily and effortlessly. You can simply mix it with water (preferably cold) and sugar (optional). Vitamin C can be immensely found in the Kool-Aid Lemonade. Carry Kool-Aid Lemonade with yourself. You can mix it with cold water in a sipper and enjoy it anytime. A single pack of Kool-Aid Lemonade makes a 2-quart pitcher of the tasty lemonade. Gluten-conscious people can enjoy the Kool-Aid Lemonade because it contains zero amount of it. The Kool-Aid Lemonade (0.23 Oz) costs $0.30. So, grab it from any of the local stores near you.
9. Calypso Ocean Blue
Calypso Ocean Blue Lemonade is a great choice if you're looking for something healthy as well as tasty. You can have a mouthful of lemon bits while sipping this ultimate drink. The ingredients used in it are all natural like filtered water, citric acid, lemon juice concentrate, lemon pulp, etc. Calypso is an ideal choice for lemoande lovers because it offers amazing taste. A single pack of the drink is approximately 500 ml which contains 200 calories, zero fat, 1% sodium, 18% carbohydrates, 50 gm sugar, as well as some amount of calcium, potassium and Iron.
10. Milo's Lemonade
Natural taste is the USP of Milo's Lemonade. The brand uses all the natural ingredients as well as no preservatives. The lemonade is prepared in a homemade style that makes it stand out from the mainstream. Milo's Lemonade contains zero colours and preservatives. The natural ingredients make it taste amazing and offer a refreshing experience when you take a sip of it. Milo's Lemonade is all-natural, Non-GMO, BPA-free and free from any kind of preservatives. The primary ingredients in it are Filtered Water, Fresh Lemon Juice (concentrate), Natural flavors and pure cane sugar. A pack of 128 fl Oz cost $3.28 at the store near you. So, try it out if you haven't!
FAQ
Q1. What is the best lemonade brand?
Q2. What is the healthiest lemonade brand?
Q3. Which brand of lemonade has the most sugar?
Q4. What brand of lemonade does starbucks use?
Q5. What brand is miniute maid lemonade?
Q6. What brands make peach lemonade?