Guwahati, the land of rolling hills and serene Brahmaputra River, isn't just about Assam tea; it's a cafe lover's paradise. You'll find cafes here that are as diverse as Assam's culture itself! Some are as snug as a warm hug, where you can cozy up with a boom and a frothy cappuccino, while others are as vibrant as a Bollywood dance number, with live music and tasty food that can make your taste buds do the tango.
The restaurants in Guwahati aren't just about feeding your belly; they're soul sanctuaries. They're where conversations flow smoother than the finest wine, where friendships are forged over the clinking of cups, and where love affairs with food begin— because, let's be real, who hasn't fallen for a plate of scrumptiousness?
So, whether you're craving a fiery plate of 'bhut jolokia-infused dishes' or a peaceful brunch by the Brahmaputra, Guwahati's restaurants and cafes are always up for a delicious plot twist in your food journey.
We've listed a few of the private cabins Restaurants in Guwahati, so let's explore them.
—Bon appétit with a side of adventure!
1. Leaf Deck Café, Guwahati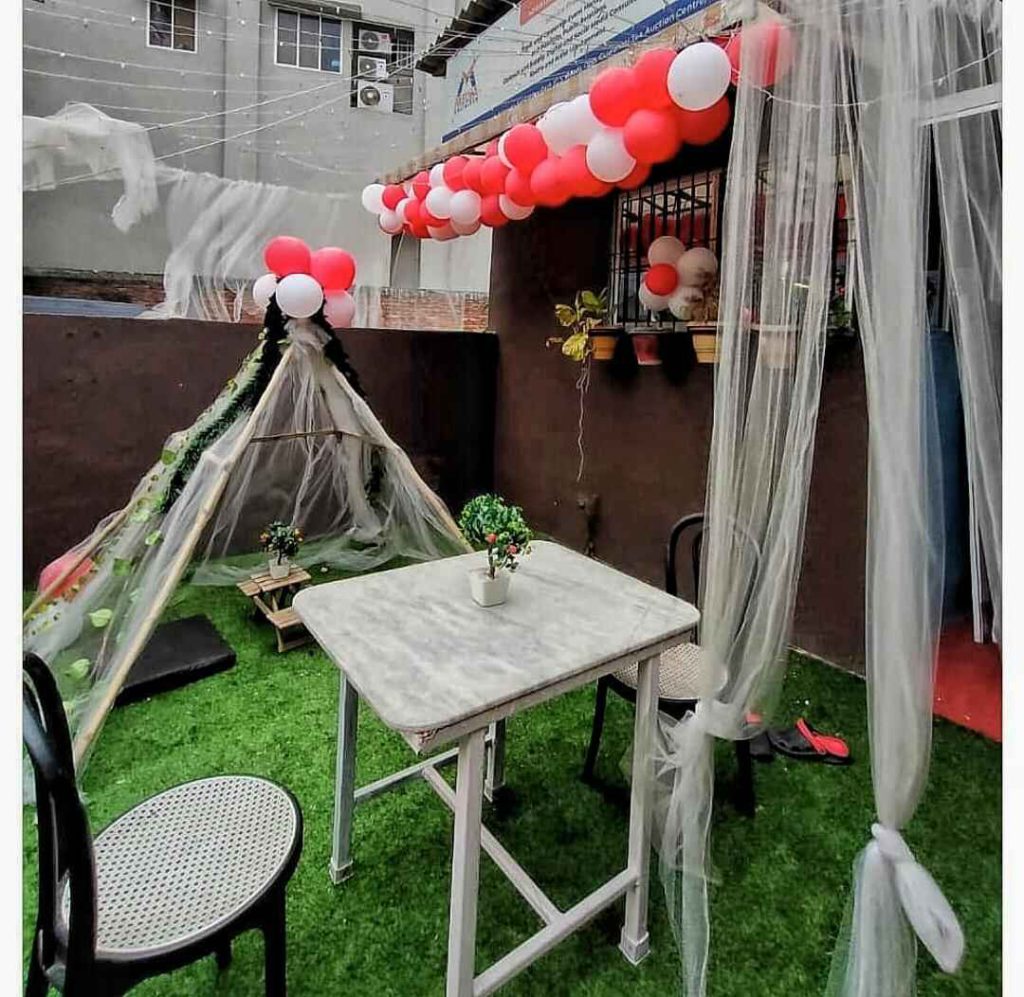 The nature-themed cafe has a lovely lawn area and looks out onto the Guwahati Tea Auction Centre on GS Road. Leaf Deck Cafe provides the best space and food in the city. It has a bright and capacious dining room. The lawn, with its lush green surroundings, fairy lights, and tiny herb planters, is totally a vibe in the winter.
Numerous couples enjoy romantic dinners beneath the stars, while a large number of city boys and girls come to enjoy the sunshine. To cater for the tastes of the city, they have combined dishes from different continents with a little fusion from their end. The ambiance is designed to look like an urban jungle, hence the name 'Lead Deck'.
The city's gifted artists gather on certain nights for Open Mics, Standup, and Acoustic Nights to display their talents. The café is tidy and offers friendly service. For those who enjoy unique drinks, you should definitely try their Blueberry Blast, Farmhouse Pizza, and their famous Choco Oreo Blast Chills.
2. CHAI PIYO – Sports Cafe :: Restro :: Lounge, Guwahati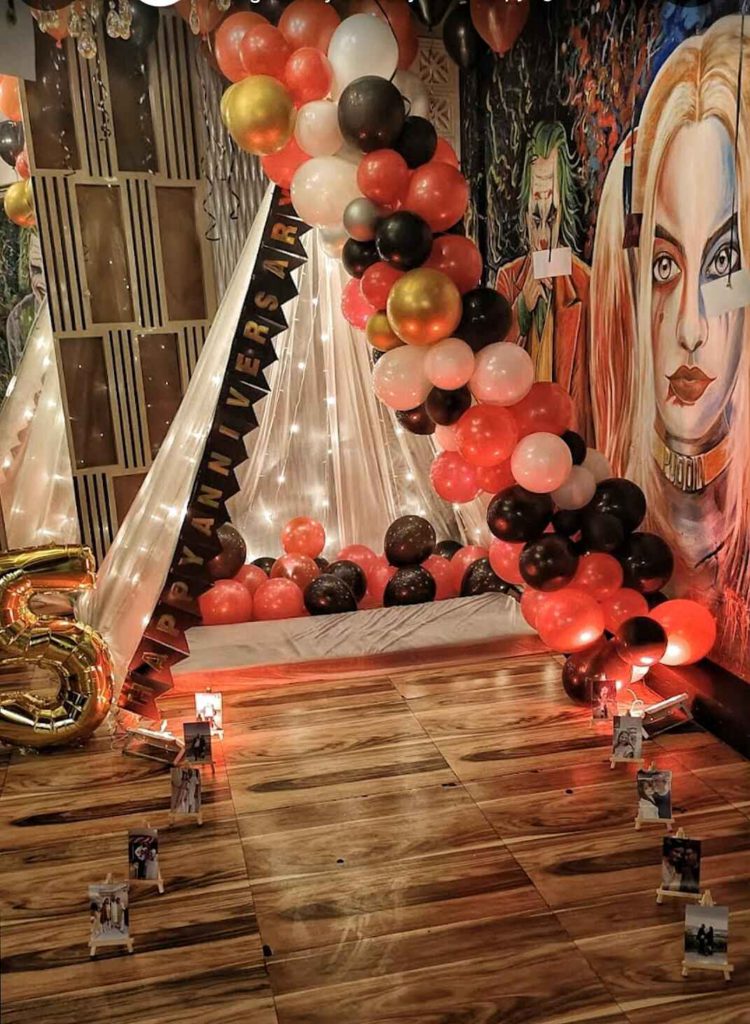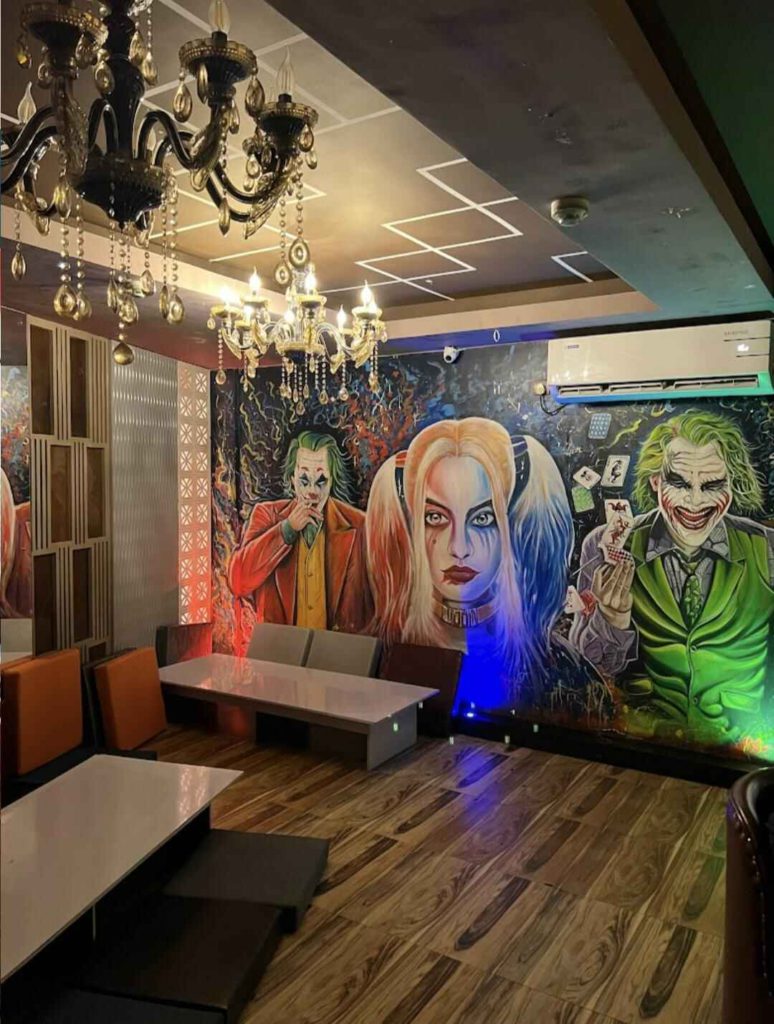 Chai Piyo Cafe is noted for its dynamic environment and is located in the heart of Guwahati. This cafe is well-known among young people for its live music and as a wonderful spot to party with friends. This cafe is jam-packed with board games, pool tables, and snooker. It serves a variety of teas and mocktails.
This location is especially ideal for couples because it has private cabins. Aside from reasonable prices, their services are very prompt. It also offers ample parking. It also features a book nook for those who like to relax alone.
Smoothie, Hakka Noodles, and Veg Schezwan Fried Rice are must-tries for visitors. There is also a smoking area for smokers.
3. Cafe Wings, Guwahati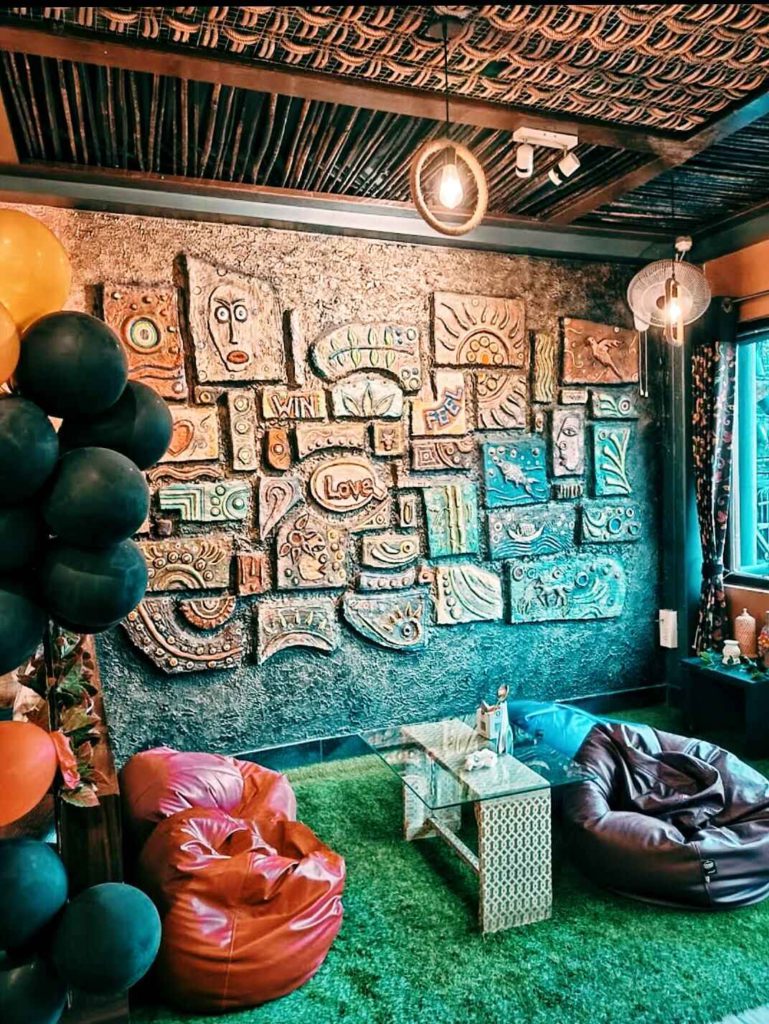 Cafe Wings is a tranquil cafe amid the city's hustle and bustle. It's the best place to spend a fun-filled evening drenched in beer while listening to soulful music and eating the best continental dishes. The Cafe Wings is best described as an exquisite setting with a fresh vibe.
The entire cafe is incredibly roomy and tastefully furnished. The interior design is well-thought-out, and as soon as one walks in, they feel at ease. The floor is covered with two rows of tastefully arranged furniture where guests can relax and enjoy their meal and coffee. The restaurant's bamboo artwork is impressive, and its thatched bamboo rope roof decoration is something to see.
In terms of cuisine, this is the type of food that has only recently gained popularity in the city. The menu is quite similar to what one would find in a café these days, but it is still very well chosen and offers a wide variety of dishes.
4. Deja Brew Cafe' And Bistro, Guwahati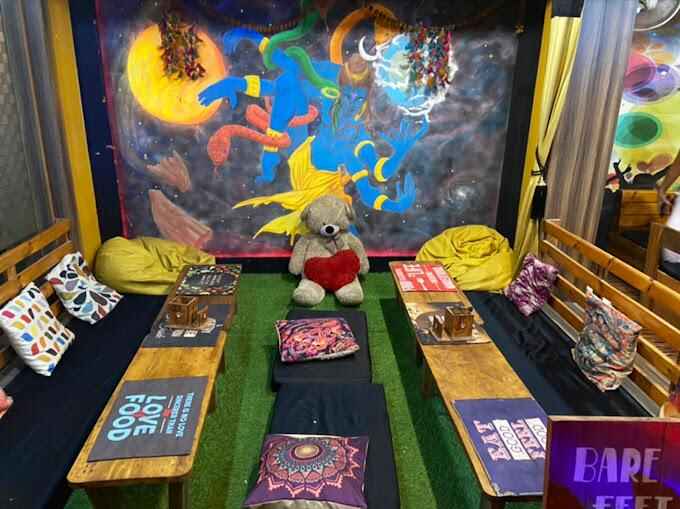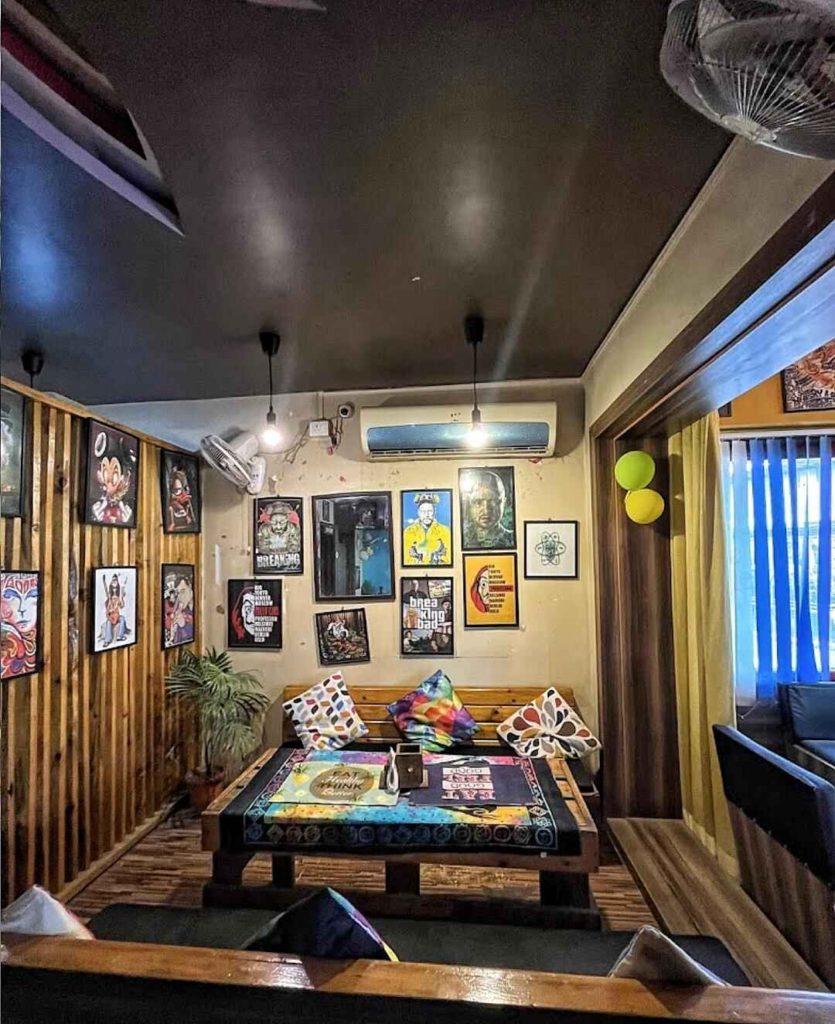 Deja Brew Cafe & Bistro is situated on the second floor and is reached by climbing the green stairs. Once there, you are greeted with a stunning scene featuring starry lights and outdoor seating. In Guwahati, Deja Brew is a unique and eccentric café and bistro.
Upon entering the interiors, you'll find wall painting and floor seating in one corner, cozy chairs and round tables overlooking the street view in another, and cool quotes framed on the wall in yet another. Warm yellow lighting creates a cool, soothing atmosphere in the room. The service personnel are courteous.
The cafe's pork ribs are now among the most talked-about pork ribs in the town. They have Italian, Mexican, and Chinese Food, Cuisines, and Platters to satisfy your taste buds.
Romantic Restaurants Offering Private – Dining Experience in Guwahati (perfect for lunch & dinner)
5. The Steaming Mug, Guwahati
The Steaming Mug, a chic bistro with a cozy atmosphere, is the young people's new favourite spot. This café attracts more young people than any other in Guwahati because of its opulent interiors and delicious food. The baristas of The Steaming Mug are well-known.
They feature two sitting options: standard and lower seating, as well as a separate smoking zone. Additionally, there's an elevated wooden platform where visitors can take a seat on the ground and students can work on their projects while enjoying coffee. The staff is courteous and the menu comprises inexpensive café snacks.
You may easily spend hours listening to amazing music or reading a book from their small library while sipping a hot cup of tea. A first-time visitor can try the cafe's full-course meal, Bob's Steak. The pizza that is served here is made freshly at home.
6. The Spice Route, Guwahati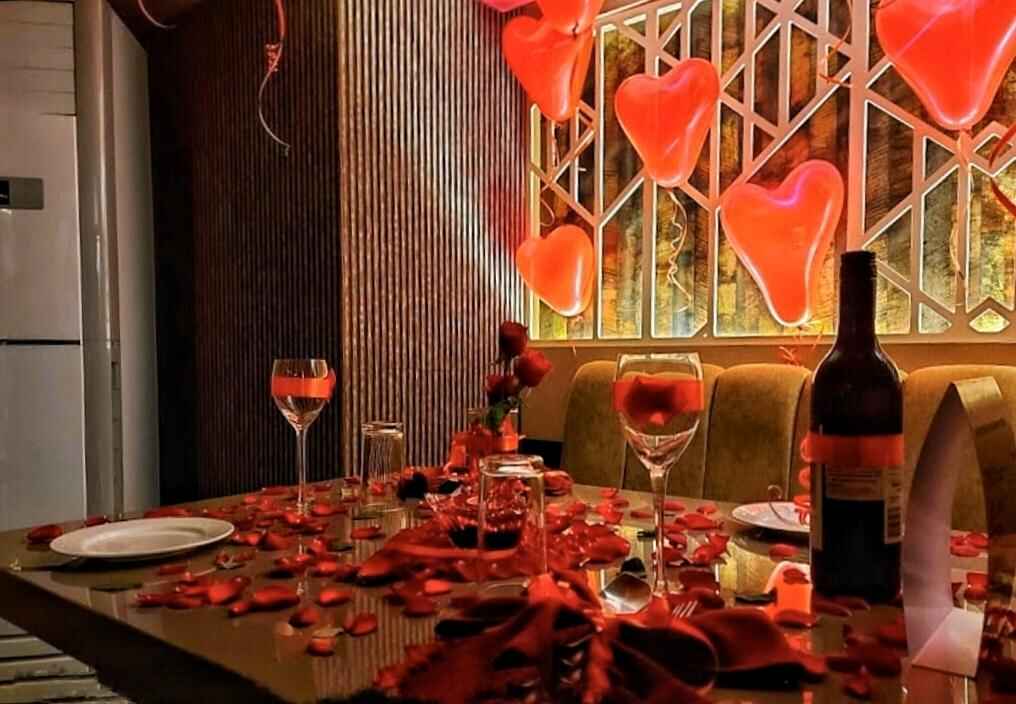 The Spice Route is a welcoming restaurant with a warm atmosphere that is ideal for families. The space is divided into upper and lower sections. A bar is also present in the upper section. With an emphasis on classic Indian flavours, it offers a range of Indian and international cuisines.
The decor is lovely, and there is a live music corner with bands and singers performing beautiful melodies. There is also a separate smoking area. Overall, Spice Route has a fantastic atmosphere and is ideal for a fine dining experience.
The meal tastes excellent and the price ranged from moderate to high. Additionally, the service providers are helpful and kind. Their Meat Platter, Chilli Chicken, and Baby Corn are all must-tries.
7. Kalita Spectrum Dine, Guwahati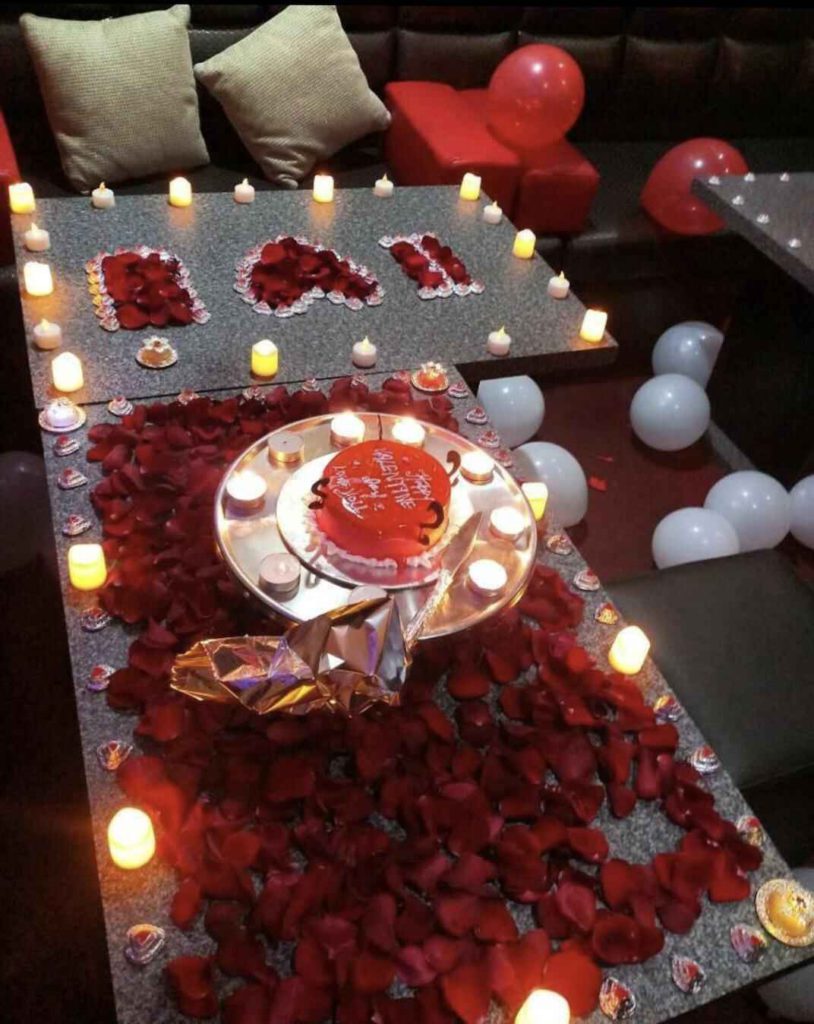 Located in the Rukminigaon, the center of Guwahati city, is a modern multi-cuisine fine dining restaurant that houses an Irish bar and a cafe with a Korean theme. It offers a lively feel and gorgeous Korean interiors honoring well-known Korean pop bands. Its special atmosphere and excellent cuisine set it apart from other Guwahati cafés.
The staff members are amiable, and polite, and provide prompt, quality service. The entire team sings and wishes to make your birthday unforgettable, making it an amazing setting for any kind of celebration. It is highly recommended to taste their Tiramisu and Fish Prawn. For children, chicken lababdar is a great choice because it tastes wonderful and isn't too spicy.
8. The Hideout Café, Guwahati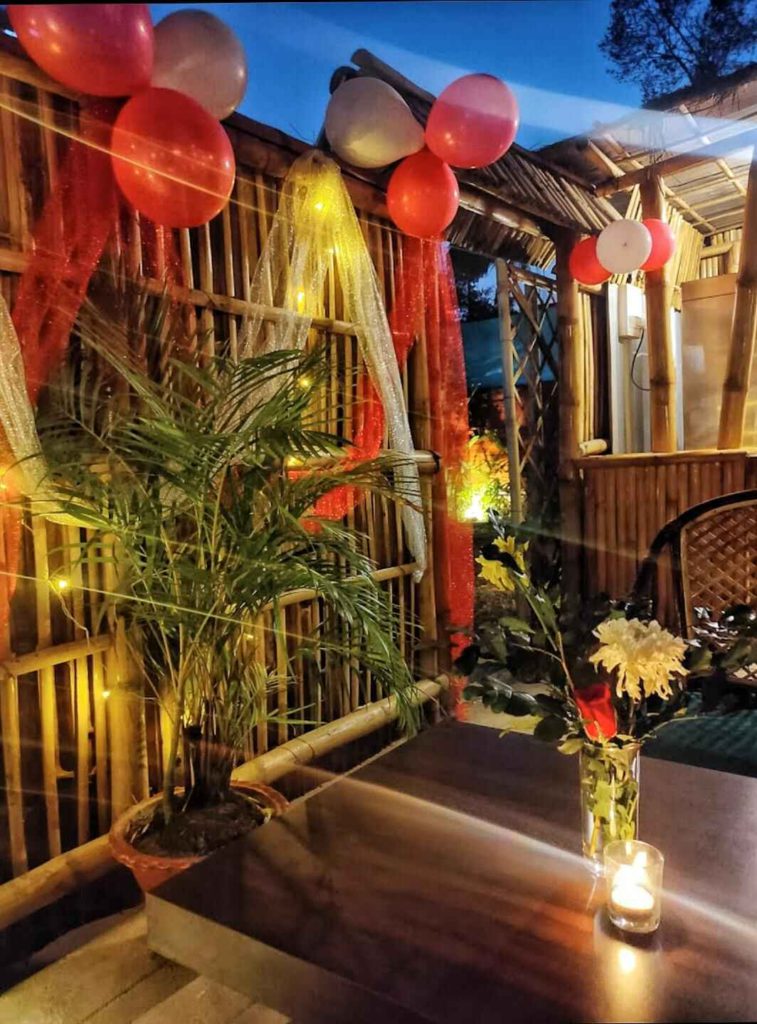 Have a lengthy chat, bring a laptop, and finish up your job in the office while sipping coffee at Hideout Café. This tiny café is situated inside two enormous bamboo plants in their natural habitat and offers outdoor seating.
The cafe's eclectic yet cozy atmosphere makes it the perfect spot for romantic dates among couples. The interiors of the cafe look good with the nighttime lighting. The cuisine on the large menu is excellent, and the staff is quite friendly.
You should try the momos; the filling is good and goes well with the extra-spicy red chutney. The Classic Maggi and Chicken Fried Rice are also excellent choices for visitors to consume.